Codarus are dangerous sea monsters. although only the size of the monster Luffy dispatched of his home island on average, they are responsible for summoning riptides and powerful undertoes, overall creating turbulant waters wherever they go. They are only hte fry of large Sea Monster sized Charibdrus and even Larger Calm Belt Neptunian sized Poseadrus!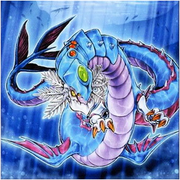 Life cycle
Little is known about this violent little creatures life style. Though they frequent the Calm belt they are uncommon and likely food for othe Neptunians however it is known they will eventually evolve into Charibdrus and finally into Poseadrus.
See also
Ad blocker interference detected!
Wikia is a free-to-use site that makes money from advertising. We have a modified experience for viewers using ad blockers

Wikia is not accessible if you've made further modifications. Remove the custom ad blocker rule(s) and the page will load as expected.